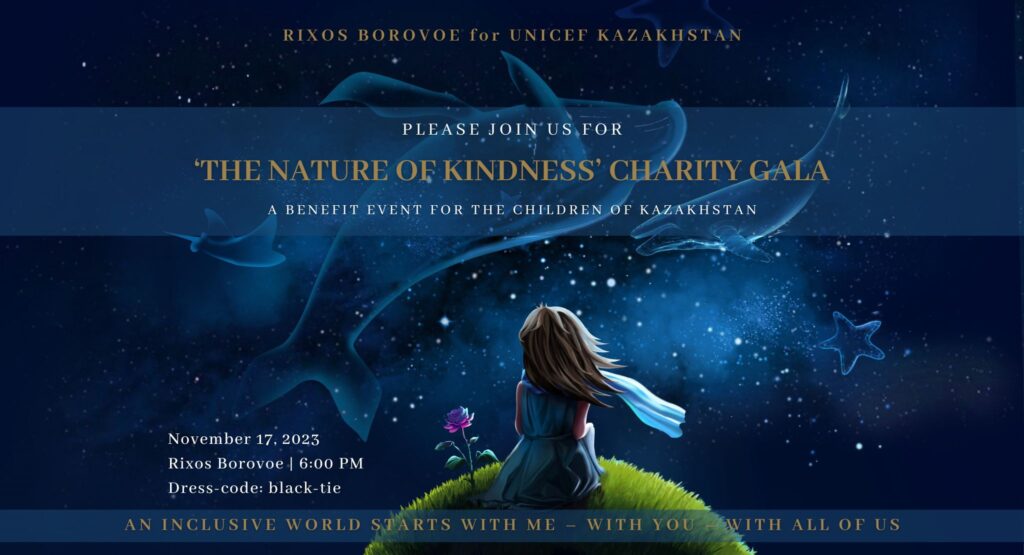 The first-ever UNICEF charity gala dinner  in Kazakhstan
This year, on November 17, 2023, Rixos Borovoe is partnering with the United Nations Children's Fund (UNICEF) to host the first-ever charity gala dinner in Kazakhstan to raise funds and awareness for UNICEF's work for children in need of assistance and protection.
This magical evening will feature performances by celebrity musicians, a gourmet dinner, and a charity auction with many surprises, including unique experiences, from our friends and supporters.
All funds raised, including the cost of tickets, will be used to support the UNICEF programme, which aims to create an environment where all children have equal opportunities to develop from an early age.
We would love to have you join us for this special event. To reserve a seat and learn more about the charity gala dinner, please follow the link or call us at +7 771 022 09 61.
🔖 Accommodation is included in the ticket price.
Dress code: black-tie
Date& time: November 17, 2023, 6:00 p.m
Venue: Bayterek Hall, Rixos Borovoe Hotel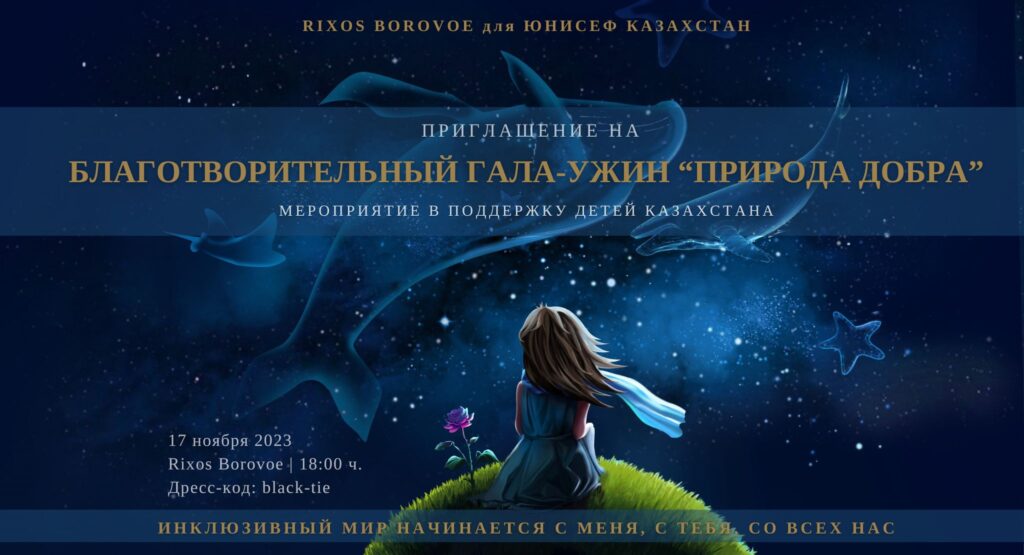 Благотворительный гала-ужин «Природа добра»
Первый в истории Казахстана благотворительный гала-ужин ЮНИСЕФ в поддержку детей
В этом году, 17 ноября 2023, отель Rixos Borovoe совместно с Детским фондом ООН (ЮНИСЕФ) проводит первый в истории Казахстана благотворительный гала-ужин «Природа добра» в поддержку детей, нуждающихся в помощи и защите.
В теплой обстановке вечера гости смогут насладиться выступлениями известных исполнителей и изысканным ужином, во время которого состоится благотворительный аукцион ценных лотов.
Все собранные средства, включая стоимость билетов, будут направлены на поддержку программы ЮНИСЕФ по созданию среды, где все дети с раннего возраста имеют равные возможности для всестороннего развития.
Мы будем рады видеть Вас на этом особом мероприятии! Получить дополнительную информацию о благотворительном гала-ужине и приобрести билеты Вы можете по ссылке: https://taplink.cc/id:10856232:493b либо по телефону +7 771 022 09 61.
🔖 Проживание включено в стоимость билета
Дресс-код: black-tie
Время: 18:00, 17 ноября 2023 г.
Место: Зал Байтерек, отель Rixos Borovoe