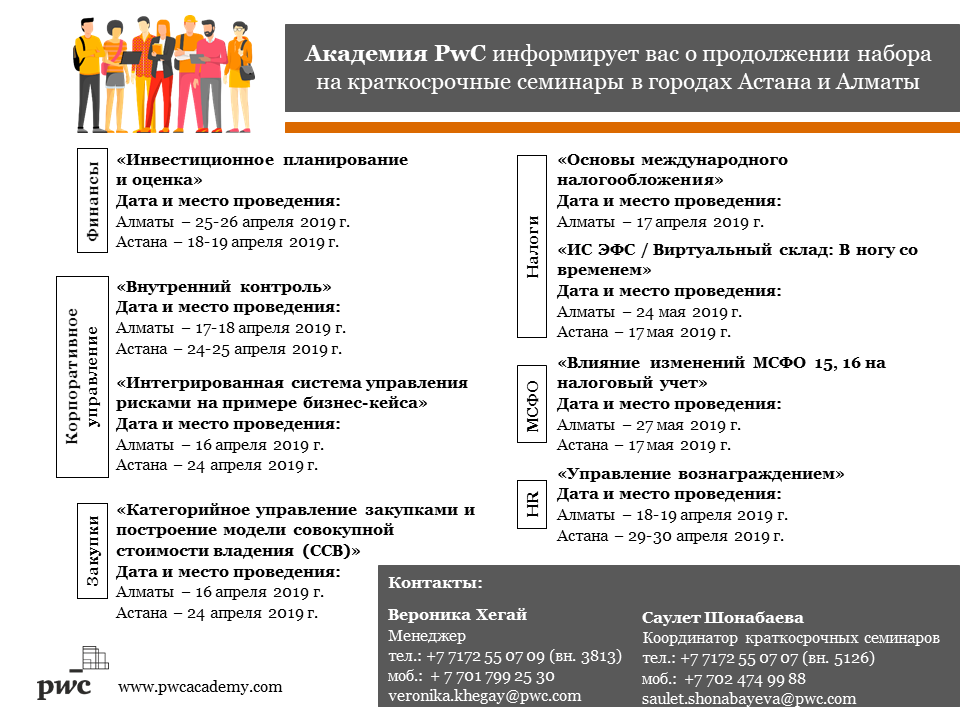 read more...
---
Приглашаем вас принять участие в бизнес-завтраке по случаю запуска представительства Свободной Экономической Зоны эмирата Аджман (ОАЭ) в Алматы.
Бизнес-завтрак пройдет 30 апреля, в г. Алматы, в The Ritz-Carlton Almaty с 09.30 до 13.30.
Организатор - Ipravo Group - международная компания, основана в 2009 году.
Аджман во вторник, 30 апреля, с 13:30-15:00.
read more...
---
Для первых руководителей вашей компании,
Приглашаем вас принять участие в конференции "Международное налоговое планирование и структурирование инвестиционных проектов" 22 апреля 2019 г. в The Ritz-Carlton Almaty.
Подробную информацию можно получить на сайте: http://lincolnconferences.co/ftl-advisers
read more...
---
With financial sustainability, care delivery, patient centricity, digital transformation, and regulatory compliance at the top of the agenda, health care sector leaders need to collaborate with all stakeholders—both within the health care ecosystem and those in converging industries—as they look to shape the future of health care and establish a sustainable smart health community.
read more...
---
In this brochure you can find a collection of some of the most interesting articles by our experts in 2018 and the start of 2019, discussing topics such as tax changes, financial reforms, investments, new technology, organizational changes and many other issues currently of interest for the Kazakhstan business community. Our professional turn the complex into the simple, providing high-quality analysis in easy to understand formats. We are always ready to answer your question and provide any advice you may need on an individual basis.
read more...
---