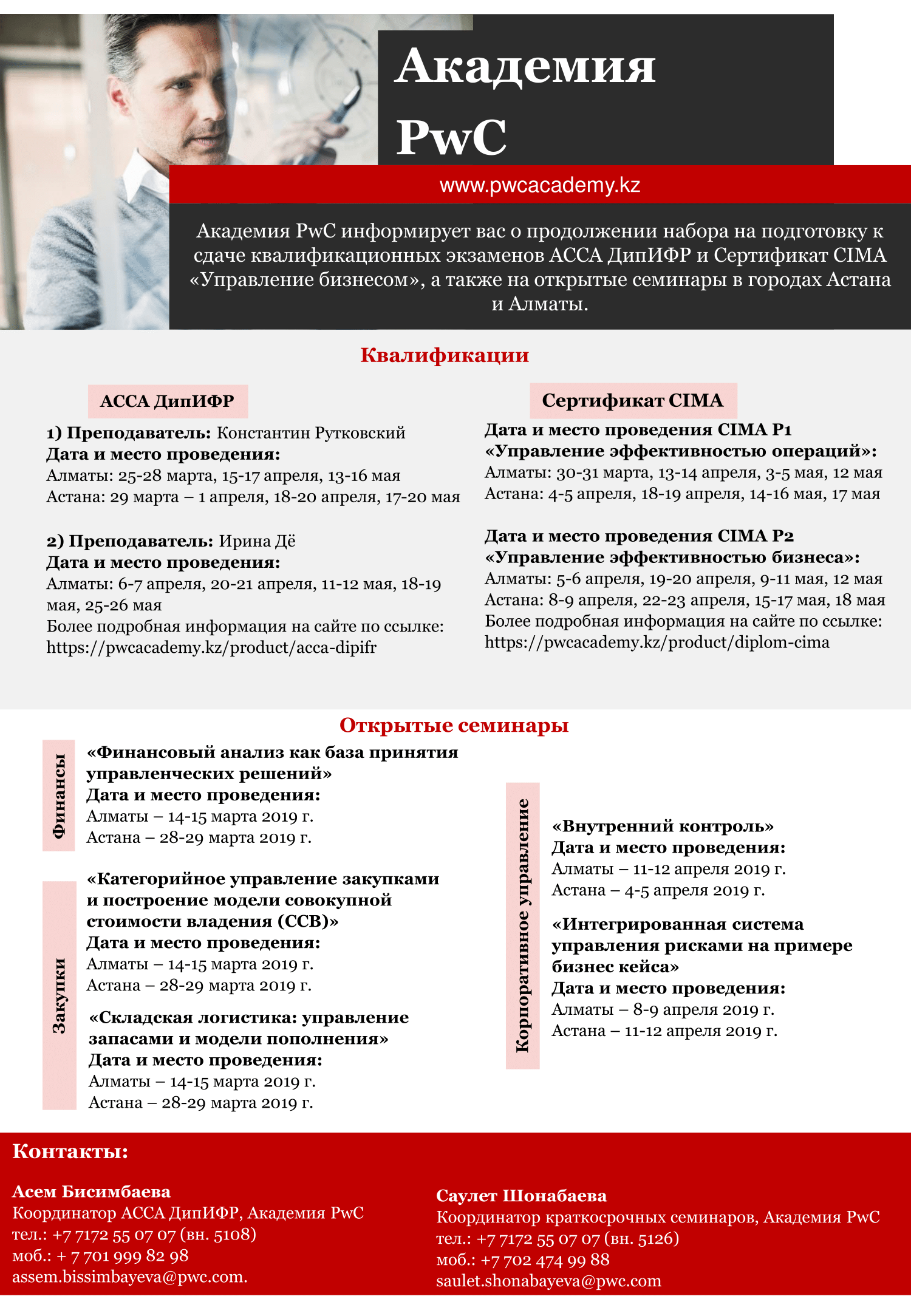 read more...
---
Important changes[1] have been introduced into Kazakhstan's legislation, including, inter alia, in relation to administrative and criminal liability for offences associated with the understatement of taxes: (i) increase to the thresholds of criminal liability for tax evasion, (ii) decrease to the list of conditions for exemption from criminal liability and (iii) increase to the rates of administrative fines for tax understatement. These changes to the Criminal Code[2] and the Administrative Code[3] came into effect on February 3, 2019.
read more...
---

Уважаемые коллеги
Мы приглашаем вас принять участие в презентации сайта olshem.kz. Это новый для отечественного рынка ресурс, реализованный совместно с передовой компанией в сфере аналитики данных Chartbeat. Сервисами компании пользуются 75% медиа рынка США.
Сайт предоставляет аналитику по ведущим онлайн порталам Казахстана в режиме реального времени. Презентация сайта состоится 5 марта в отеле Novotelв 10.00 часов. На встрече будут присутствовать представители Chartbeat – Джилл Николсон, старший руководитель образовательных программ для клиентов и Кара МакКлоуски, менеджер по работе с клиентами.
read more...
---
Многие казахстанские компании работают с партнерами и клиентами в Российской Федерации.
Обычно это подразумевает проведение расчетов в рублях, и тут крайне важно по какому курсу происходит обмен.
При больших объемах средств на разнице курса можно сэкономить приличную сумму.
Но как подобрать лучшие условия?
read more...
---
On 3 March, the Music from the Land of Daffodils concert will take place in the Astana Opera Chamber Hall.
Wales is one of the four main administrative and political units of Great Britain, situated in the south-west of the country. The population of Wales is not large – about three million people. However, the people of Wales – the Welsh – are very musical, they love choral singing, and pupils of the British School Haileybury Astana have been keeping these traditions.
The national symbol of Wales is the daffodil that blooms there in late February – early March, so you will see all the concert participants wearing this flower on their chests.
read more...
---